Coronagraph
— Astrophysical Observatory, Arosa
This Coronagraph is for Sale (Update: has been sold)
This historic instrument was salvaged from ending up at a scrapyard in 1980 and has since been kept in storage for more than 40 years. It is now offered for sale to any organization or individual who will undertake to restore it for display or to working condition.
Terms of Contract:
Items for sale: Kern Coronagraph "as is" including front lens, occluding disks, Zeiss Spectrograph, heavy telescope mount and finderscope. These items will not be sold separately.

Price of sale: The price for all items together is 1 (one) Euro or 1 US$ or 1 CHF at buyers free choice of the currency.

Conditions of sale: Buyer takes the obligations:
(a) To pick up the items at the current storage location near Zurich / Switzerland or to arrange for pick up and shipping at his own expense; and
(b) To keep and restore the Coronagraph into a condition suitable for display or – at his option – into working order; and
(c) Not to scrap or destroy the items or take any actions which would detract this historic instrument and its main constituent parts from the preservation for posterity; and
(d) Not to sell or donate any of the parts acquired under this contract separately to a third person; and
(e) Not to sell or donate the items as a whole to a third person without imposing conditions (b) to (e) to the third person.
The Coronagraph found a new home
On March 20th 2021 the coronagraph has been transferred to the Astronomical Society Grisons, Switzerland (Astronomische Gesellschaft Graubünden AGG). The society is planning to restore the instrument into working condition in close collaboration with the Astronomical Working Group Aalen, Germany (Astronomische Arbeitsgemeinschaft Aalen e.V.). More information about restoration progress can be found on the Studiensammlung Kern Aarau website.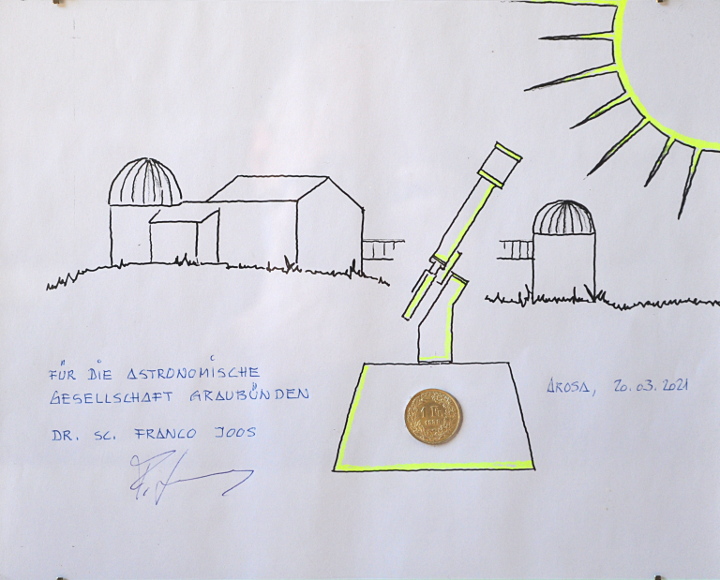 The Astronomical Society Grisons had the wonderful idea to remit the purchasing price as a framed drawing depicting the Astrophysical Observatory of Arosa Tschuggen.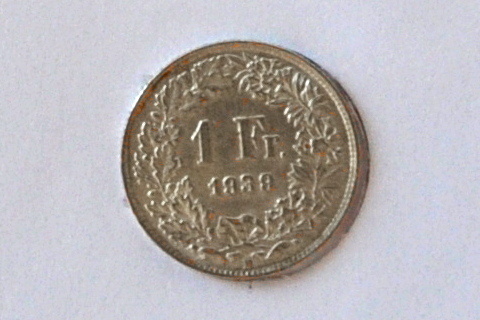 The 1 Fr. silver coin was minted in 1939, the year of the erection of Astrophysical Observatory Arosa and the year of the first observations with the coronagraph at the new location.